Our new library is the Harford County Library, and here are some recent picks that we've enjoyed from there:
Princesses Are Not Just Pretty by Kate Lum
My rating: 4 of 5 stars
A cute story about three princesses who each WANT to be the prettiest, but eventually remember that they have more important things to do. My kids LOVED this one (and I have to say, I liked that one of the princesses was named Princess Libby), and now we need to seek out Lum's other princess books.
My New Friend Is So Fun! by Mo Willems
My rating: 5 of 5 stars
A new Gerald and Piggie!! Hooray! Gerald and Snake find out that Piggie and Brian Bat are hitting it off–and then they start to worry that their best friends won't need them anymore. Another great installment by Willems.
Naughty Kitty. Adam Stower by Adam Stower
My rating: 5 of 5 stars
I do have ONE gripe about this book, which is that the tiger who appears and gets Lily's kitty in trouble shouldn't be quite such a surprise to Lily, since she adopted him at the end of Silly Doggy. Still, Lily's animal raising skills amused us just as much, if not more, in this new story as in the first, and this is one that I not only reread several times, but that my 6 and 4 year old quickly learned enough to reread by themselves. Cute, funny, and right on target to audience (they especially loved the line, "As for Mom's carpet, I can't even talk about that. It was revolting!"
And one adult book (and I was very impressed by how quickly I got this from the holds list):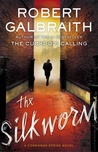 The Silkworm by Robert Galbraith
My rating: 5 of 5 stars
I thoroughly enjoyed this second installment of the Cormoran Strike detective series (yes, I probably wouldn't have read it if it weren't written by J.K. Rowling; I have no shame about this). I think I like that it follows the basic hard-boiled detective and green partner pattern, and I love the character development between Strike and Robin, and I LOVE that (at least so far) it has not become a romance. I did tell a friend who is hoping they will get together that there's still room for it to develop (not least because Robin's fiancé Matthew seems even less likable in this novel), but I'm still holding out hope that it will just stay a detective-partner relationship.
I thought the murder mystery part was also well done (and that the whodunit was less of a cheat than the first book), but be aware that the murder in this volume is extremely gory and disturbing.